Joseph Tucker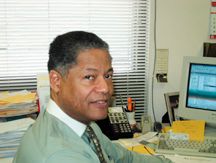 President
Joseph Tucker is the President of Alpha Printing, Inc.
He has 36 years experience in marketing, with 19 years in the printing industry, beginning his career at S&H Green Stamps Co. Joseph continued serving in this capacity for companies including Xerox Corporation and Exxon Corporation. He launched Alpha Printing, Inc. in 1986.
Joseph was born in Stanton, Tennessee. He attended Tennessee State University and the University of Tennessee at Nashville. He and his wife of 37 years have two daughters. Joseph is a member of the Central Fairfax Chamber of Commerce and the Alexandria Chamber of Commerce. He and his wife currently live in Oakton, Virginia.